1. Wool Cloche -
this lovely hat gives your outfits a vintage look that is really trendy this fall and you can pair it up with pretty much everything...a dress, a blazer and shorts, a blouse and skirt etc...
2. Wool Bow Beret -
another great alternative to finish up a look. If you want a more trendy feel instead of the more classy feel the "cloche" gives then this cute beret is the right choice. The shimmering bow says nothing vintage and more eclectic.
3. Sheer Lace Bodysuit -
this bodysuit looks great with a black tube top or bra and then with a blazer added on top. With those three paired together you get a vintage yet 80s look all in one!
4. Military Jacket -
the whole military look is great during the fall too. And if you choose the more vibrant colors like the green and brown shades of this type of jacket you can give an outfit a great pop of color without being too flashy and still staying true to Autumn.
5. Flower Satin Headband -
this headband is great to wear as a finishing touch with your coat outfit during fall. It's classy design will make your outfits seem adorable!
6. Triangular Shape Blazers -
this blazer accentuates a woman's figure to perfection and it looks great with formal or casual wear. In addition it will keep you wam too.
7. Lace/Design Tights -
these are the best to complement your skirts or dresses and they give a chic or cute feel.
8. Double Breasted Coat -
a must have fall/winter accessory short or long not only is it classy and vintage but it also keeps you warm.
9. Shades -
why not look chic in fall too with shades plus the shads can also protect your eyes from those windy days.
10. Lace-up Booties -
they're cute, trendy, cozy and give you that extra height.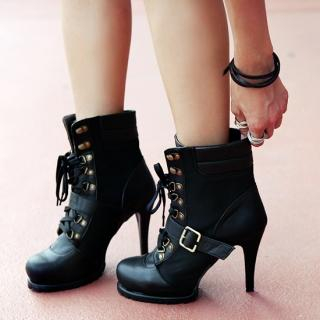 11. Cardigans -
a great way of layering is by using cardigans underneath your coats and blazers that way you can keep them warmth when outdoors and look chic when indoors without being too warm.
And those are my favorites for Fall 2010 as of now! I found these pieces from various stores - Forever 21, Yesstyle and Walmart.
Hope you liked this post!